Headhunters ranked Eastern Cape's top recruitment agency by PMR Africa
Port Elizabeth – HEADHUNTERS has been ranked the best personnel recruitment agency in the Eastern Cape in this year's Professional Management Review (PMR.africa), receiving a Diamond Arrow Award for its outstanding first place overall.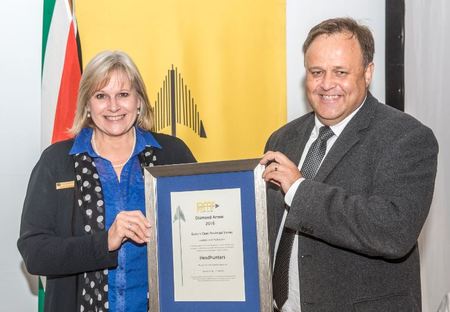 PMR CEO Johan Hattingh said the awards recognize business leaders and achievers across a wide range of industries, from accounting and agriculture to fast moving retail sectors. The programme's aim is to enhance excellence and global competitiveness amongst companies and institutions, as well as to set industry benchmarks. 
Headhunters managing director Michael Tuohy expressed delight with the accolade, which he said was a positive reflection of the company's solid reputation amongst both employers and job seekers.
"Headhunters' clients depend on us to provide a high quality service. As PMR.africa's research gathers the independent perceptions of professionals, their endorsement means that we are indeed consistently meeting and exceeding their expectations.
"Our caring team of recruitment specialists is the heartbeat of the consultancy. They are passionate about what we do at Headhunters and I applaud them all for this well-deserved compliment. This award is an objective evaluation of our work from the people who matter the most to us – our past, present and potential clients," Tuohy said. 
The company also received the PMR.africa Diamond Arrow Award in 2014. 
The PMR.africa ratings are the culmination of independent, audited research and are based entirely on market perceptions. Respondents were asked to nominate and rate organisations against criteria that included:
- contribution to economic growth and development of the province over the previous 12 months
- levels of managerial expertise
- implementation of corporate governance
- brand awareness and
- levels of innovation.
Respondents were drawn from a sample of corporate executives, business owners, company directors and senior government officials. Interviews were conducted telephonically using semi-structured questionnaires. 
Commenting on the current job market, Tuohy said he and his team were optimistic about recruitment opportunities in the province.
"What many don't realise is that aspects of the economy are cyclical, so when a particular market segment is down then others are buoyant. At Headhunters, we are fortunate that our recruitment order book is overflowing with opportunities. People should not feel unduly concerned, however school leavers in particular must understand that the job market is incredibly competitive and that some sort of tertiary qualification is essential."
Tuohy said Headhunters recognised the pitfalls and challenges that job-seekers are up against and now offers tools that can boost their chances of success. 
"Our aim is to partner great people with great jobs. It's so important for people to package and present their skills well when they go after a new job. Headhunters' innovative addition of services aims to maximise the marketability and potential of every job seeker – with a well-crafted CV and interview coaching from experts they will certainly have an edge over their competition. 
"Headhunters is a values-driven, customer centric and genuinely caring business. As recruitment specialists we feel such a sense of responsibility in assuring the best fit for our clients, taking into account not just the core skills and responsibilities but also the personalities and values of our candidates. 
"Our mission is not to be the biggest - just the best. Headhunters prides itself on being a market leader in intelligent recruiting and sustainable placements," Tuohy said.